Ed Koch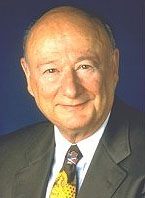 This show, originally taped in November, 2009, is being headlined in honor of the February, 2013, passing of former New York City mayor Ed Koch. One of the most popular mayors in New York City history, Ed "How'm I Doin'" Koch was known for his achievements as well as his controversies. He served three terms as New York City's mayor, and helped to stabilize New York City's financial problems. We discuss his accomplishments as mayor, as well as how his positive attitude helped him deal with serious medical issues.
Click play button below to listen:
It look's like you don't have Adobe Flash Player installed. Get it now.