Kellie Martin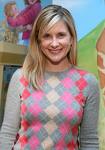 This show with the former ER star and well-respected actress, dating from 2003, shows how adversity strengthened Kellie Martin and led her to become a public advocate for autoimmune diseases and their treatment. It also discusses the efforts of the American Autoimmune Related Diseases Association (AARDA), for whom Kellie is the national spokesperson.
Click play button below to listen:
It look's like you don't have Adobe Flash Player installed. Get it now.